There's a meme floating around that says, "You're an otaku are you? Name twenty anime excluding Naruto, Bleach and One Piece (sic)" Let me see if I can find it.
Found it: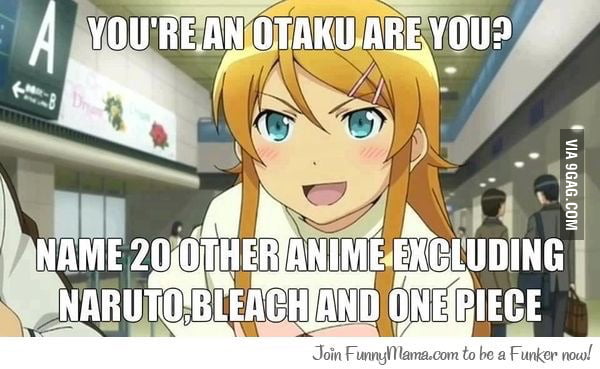 Yeah, I can and I bet you can, too. I mean the author didn't even include obvious stuff like Pokemon and Dragonball.
I've got a list of anime I'd like to have a look at…thirty-one titles so far. I won't watch them all, guaranteed. Some of them I'll look at, say, "This is stupid," and not watch. Senran Kagura…sorry. Ninjas with fan-service-grade breasts? Nopety nopety nope. But I didn't know that until I watched the first episode.
Some I can't find. They'll just stay on the list until I do.
On the other hand, I like Bleach. I like the characters and I like the way they interact. But as of now there are 366 episodes and more in the offing. I like Bleach, but I don't like it so much that I'm going to catch up on it now.
So, let me ask you this: What should I watch?
Here are the criteria:
* I'm a grown up. I don't mind nudity or sex if it's plot driven. On the other hand, I'm old enough not to find characters drooling over a high school girl's panties interesting
* I have a preference for science fiction and fantasy
* I'm interested in understanding the cultural underpinnings of the medium
* I have a strong preference for series that run less than 30 episodes
* I'm a trained animator and filmmaker, and a semi-professional writer. I like shows that are innovative in terms of technique, whether it's visual or narratively.
When you take that into account, what do you think I should watch?